Shirts
Show the world you're a MUSIC GUERRILLA! Here it is: our cool looking, black, short-sleeved, wearable music statement. Raise your hipness quotient and support others all at the same time – all funds go toward  The Music Guerrilla's mission!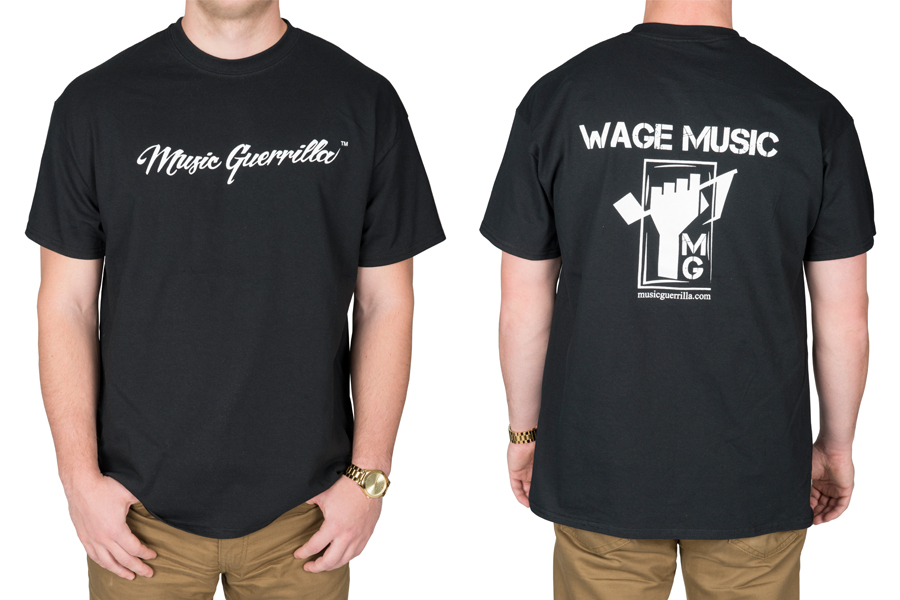 Stickers
Show others what you're about. Encourage others to do the same. Two stickers make it twice as nice. C'mon, make a statement! And remember: you're supporting others with your purchase!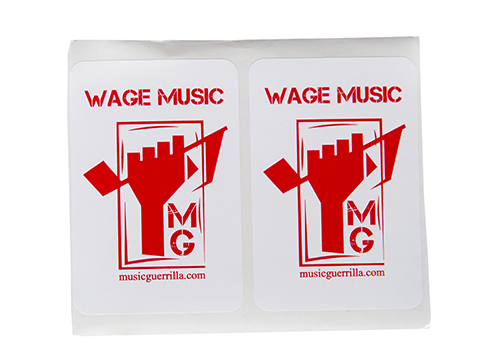 Music, Artistry and Education: A Journey Towards Musical Growth and Enlightenment by Milton Allen
Click here to buy: http://www.meredithmusic.com/music-artistry-and-education
"Praise for Music, Artistry and Education . . ."
"MUSIC, ARTISTRY AND EDUCATION" should be required reading for all conductors, at every stage of their musical lives.  With devastating honesty and profound insight, Dr. Milton Allen compels us to step away from the "business" of our lives and focus again on the art of our profession.  Revealing personal examples ranging from humor to tragedy, Dr. Allen has created a stimulating and powerful blueprint for "composing a life"- a unique and enormously valuable tool for every conductor."
 JoAnn Falletta, Music Director, Buffalo Philharmonic Orchestra, Music Director, Virginia Symphony Orchestra, 2-time Grammy Winner
"Milton Allen's book is quite remarkable. Like most great educators he relates his subject, music education, to wonderful stories of everyday life. He is a wonderful story teller and the connections are fascinating and at times revelatory. He is a friendly philosopher who deals with the theoretical and the practical while realizing that in the end it is about the music, and is pragmatic without losing sight of the artistic. This marvelous book should be read by all of us who in some way think of ourselves as teachers."
Gerard Schwarz, Conductor Laureate, Seattle Symphony, 2-time Emmy Winner
"Milton Allen has written no ordinary book for band and orchestra conductors.  It is, however, both funny and sad, naïve and deep, simple and profound, moving and poignant.  While this is not a "how to" book, it is more unique and essential for the music educator than any other book about the profession I know. Filled with personal memories and lessons, Dr. Allen has a gift for writing as well as wonderful insights into the center of our humanistic selves.  Easy reading along with deep reflections."
 H. Robert Reynolds, Principal Wind Ensemble Conductor, The H. Robert Reynolds Professor of Music Chair, Thornton School of Music, The University of Southern California
"When you're up to your neck in alligators, its tough to remember your initial objective was to drain the swamp".
Milt Allen's wonderfully thought-provoking book deals with the A to Z of how to drain the swamp and how to cope with the alligators in life and in the music class room, drawing on experiences of a lifetime with real wit. He is certainly one of the funniest communicators in music education that I know. I remember with affection a lecture at a summer school in UK which had some thirty of us howling with laughter, not so much at what he said but the wonderfully disarming way in which he said it. Everything is grist for his mill, whether it is a rodeo with dog-riding monkeys, early life on the farm in the rural mid-west, climbing sand dunes with a small son in the Indiana Dunes National Lakeshore, learning to drive the hard way and so on, and each chapter or parable ends with theories drawn and questions asked which will help any of us to tackle matters of study, of organisation and rehearsal, and indeed of life, matters which we probably have taken for granted for years.
The gentle self-deprecating humour shines out from every page. Brimfull of confidence, he faces the Eastman Wind Ensemble, knowing that he could "read a score AND correct: pitch, balance, posture, articulation dynamics, tempos, accidentals, time signatures, wrong notes, entrances, exits, rhythms and sell enough candy bars to take a trip that, in doing so, would substantiate the value of music education to my parents, my administration, and, most importantly, ME."
"Maestro Fennell, do you have any suggestions?" Time slowed, air stopped and the world stopped spinning for a moment. He looked at me and he said, waving his infinitely gifted right hand towards THE ensemble; "Well, don't screw this up".
This is a book to put on your bedside table, but the danger is you won't get much sleep, you will be led on through chapter after chapter of what I guess might be called "homespun philosophy", beliefs and values derived from a wide range of experiences which will help anyone to become a better musician, educator and person.
-Timothy Reynish, former Conductor, Royal Northern College of Music, United Kingdom
"Milt Allen has created a narrative about life, artistry, and teaching that is unlike anything that has come to us before.  Consisting of eighteen home-spun stories and both a prologue and an epilogue, this is a journey that has more depth and breadth than meets the eye upon a first read-through.  This is a must read for teachers just entering the profession, for those teachers who have devoted many years of their life to sharing their love of music with others, and for everyone else between.  The lens of understanding and revelation in subsequent re-reads, I suspect, will continue to evolve as the years of experience accumulate.  Enjoy the journey, and take it often!"
Craig Kirchhoff, Professor of Conducting, University of Minnesota
"Many years ago, my first Chinese conducting student taught me an invaluable lesson: "when the student is ready, the teacher appears." If you are a music educator primed to deepen as a musician and teacher, Milt Allen may prove to be just the teacher you seek! "Music, Artistry and Education: A journey towards musical growth and enlightenment," comprises down-to-earth stories, chock-full of meaningful lessons about music-making, teaching, and life. In a world overrun with information, true wisdom has become a rare commodity. Allen's humorous and engaging stories contain a much-needed dose of this uncommon substance, serving to remind those of us who teach music of the things that matter most."
 Gary W. Hill, Evelyn Smith Professor of Music, Director of Ensemble Studies, School of Music, Herberger Institute of Design and the Arts, Arizona State University
"Music, Artistry and Education," is a wonderful contribution to every music teacher's library, and – arguably – in *every* teacher's library.   (Changing the noun to any other studied discipline makes the shared concepts applicable and relevant to all subject areas.)   Being a Dr. Milt Allen fan, it is tempting to simply put together a string of positive accolades in support of the book's content, but – in this case –   there is more written between-the-lines than on-the-lines, and that is always the mark of a masterful author.   Dr. Allen has wrapped his creative pen around the real situational landscape of the music teaching/learning environment.   He delightfully integrates his thought-and-experiences in a palatable style, and his gentle-and-priceless wisdom reveals, in story form, the key ingredients evidenced in every successful educator.
Milt's book is one of those special contributions you will want to read, and reread, and reread again. Much like great music, it gets better with each performance/reading. You will find yourself "nodding in agreement" as you flip from one page to the next, and with an uncontrollable smile you will realize Dr. Allen is a man who has traversed his own successful journey dealing with the challenges we all embrace along our own pathway.   I applaud my colleague-and-friend for offering his message in such a wonderful fashion as he reminds of the critical role we play in the lives of our students.
Thank you, my friend. Once again, you have made a grand difference for all of us."
Dr. Tim Lautzenheiser, Vice President of Education, Conn-Selmer, Inc.
If you've had the occasion to meet Milt Allen, you learn rather quickly that the man sees the world a bit differently than most . . . So it came as no surprise to me that Milt found a means to share his informed outlook on life, art, and the world of teaching and conducting with a broader audience.   His book, "Music, Artistry and Education" lives up to its subtitle, "A journey toward musical growth and enlightenment."  Through a series of stories, Milt draws upon the events of his life that have shaped his thinking and nourished his soul to lead the readers to signposts — his benevolent suggested calls to action that the reader might employ in order to stimulate personal exploration.  Now this guy is a great writer!  I must admit I was a bit surprised at just how good Milt was at pulling me into the moment described in each parable.  I literally laughed out loud a few times — most of the stories are shared with a self-deprecating flair.  There are other stories that grow from the more troubling moments Milt experienced, and these have a rather profound weight to them.  All of the stories seemed to resonate easily with the arc of my teaching life, and I would think other educators would find readily a similar connection.  Milt draws you into a scenario with wonderfully descriptive prose, and then with the gentle hand of a master teacher, points out what he learned from each.  He shares his life lessons as signposts, launching them as calls to action and reflection.  I found myself eager to take the time to ponder and let them in, and I grew.  I was thankful that he took the time to help me out.
With his book, Milt has given us a personal gift of lasting value.  I heartily recommend it to any teacher who needs to come up for air, let alone those who are just getting ready to dive into the water for the first time.
Dr. Timothy Mahr, Professor of Music, Conductor, St. Olaf Band, Composer
"We've heard of the need to "sharpen the saw." Well, Milt has provided a SHARPENER! For those of us crazy enough to make a life in music and music education, this book is a mirror, a map and a spark plug. Practical, personal, and inspirational, this is a book to return to like a favorite piece, uncovering new insights with every read."
Lance LaDuke, Trombone/Euphonium Dynamo, Carnegie Mellon University